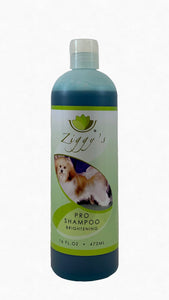 Our Pro Shampoo is the flagship formulation of Ziggy's Pet Products and showcases our commitment to creating naturally derived products that ensure a thoroughly cleansed coat without any harshness on the fur or skin. Our Pro Shampoo cleanses and enhances the natural color of your pets' coat. This shampoo contains chamomile extract and Oatmeal to provide a soothing and soft feel with ant-itching properties. We also incorporated our signature deodorizer in combination with our fresh fragrance to provide a clean and fresh smelling coat long after application.
Clean and Fresh fragrance
Long lasting deodorizer
No harmful chemicals
Paraben free and pH balanced
Suitable for all coats
Available in multiple sizes (travel thru bulk)
Product picture represents 16oz size
Science tested, pet approved
Instructions:
Can be used on all dogs, cats, and puppies over 6 weeks old. For cats and puppies we recommend diluting to 1 part shampoo and 3 parts water. For dogs you can use a suitable dilution for your dog's size or no dilution at all. Rinse thoroughly after shampooing. 
Ingredients:
Aqua, Surfactant Blend of (C-10 and C-16) Coconut and Palm Oils, Hydrolyzed Oat Protein, Linum Usitatissimum (Linseed) Seed Extract, Chamomilla Recutita (Matricaria) Flower Extract , Ordenone™, Methylchloroisothiazolinone (and) Methylisothiazolinone, Fragrance, Blue 1