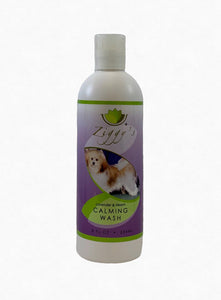 Our Lavender and Neem Calming Wash combines our signature shampoo base with the added natural benefits of lavender and neem. While this product is excellent at cleaning fur and skin, and has huge deodorizing power, the star ingredients are the lavender and neem. We have started to extract our own lavender and neem in our laboratory, so we can be certain of its consistent quality. Neem has a long history of being used in naturally promoting healthy skin and fur. Combined with a lavender infusion, this product provides a luxurious spa grooming experience that stimulates calming feelings through nasal receptors.
Lavender and Neem fragrance plus deodorizer
Contains natural and organic ingredients like lavender extract, rosemary extract, neem leaves, aloe, and chamomile
Paraben free and pH balanced
Avaliable in multiple sizes
Product picture represents 8oz size
Instructions:
Can be used on all dogs, cats, and puppies over 6 weeks old. For cats and puppies we recommend diluting to 1 part shampoo and 3 parts water. For dogs you can use a suitable dilution for your dog's size or no dilution at all. Rinse thoroughly after shampooing. 
Ingredients:
Aqua (Aqueous Infusion of Neem Leaves), Aloe Barbadensis Leaf Juice, Surfactant Blend of (C-10 and C-16) Coconut and Palm Oils, Cocamidopropyl Betaine, Panthenol, Lavandula Angustifolia (Lavender) Extract, Chamomilla Recutita (Matricaria) Flower Extract, Rosmarinus Officinalis (Rosemary) Leaf Extract, Methylchloroisothiazolinone (and) Methylisothiazolinone, Citric Acid, Fragrance